The Craps Table
Here is the Craps table. I know there's a lot on there but once you start to break it down piece by piece, bet by bet you realize you don't need to be concerned with most of it. It's got four main sections: the Rail, the Betting Area, Proposition Betting Area, and the Bank.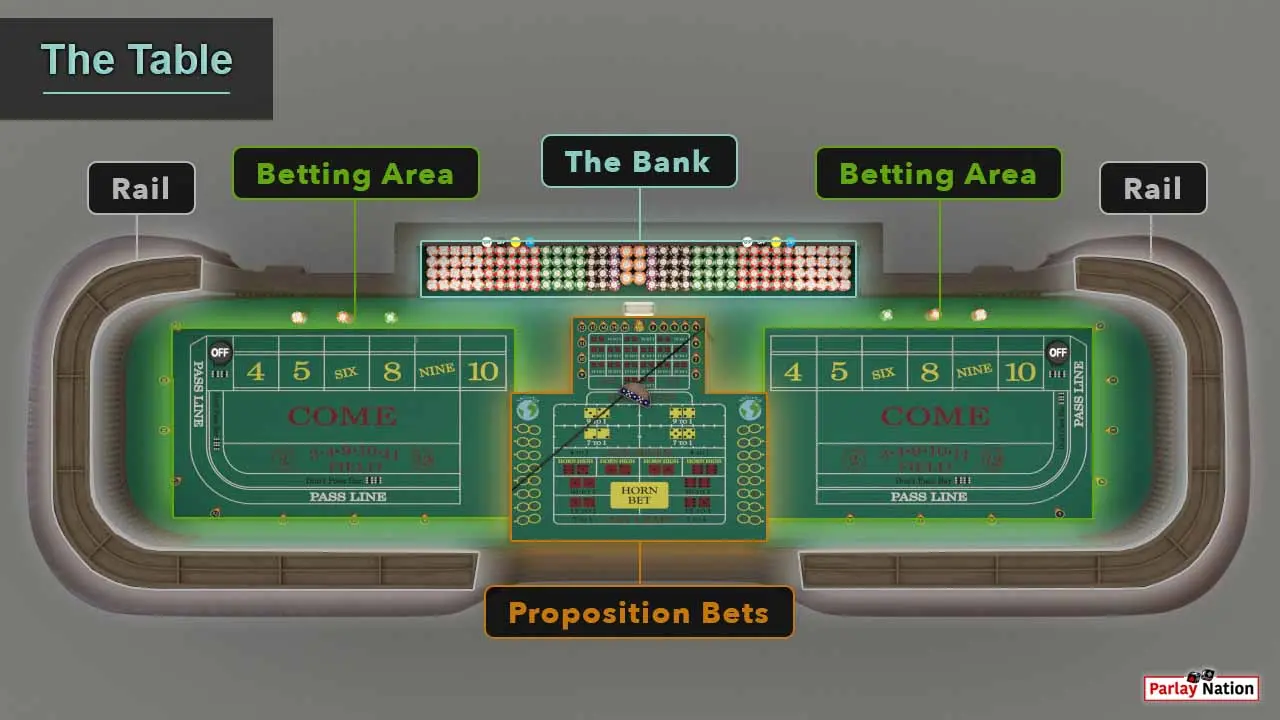 The Rail on a Craps Table
The rail is where you place your cheques. It's divided into sections, and each section is for a player. After you buy in, you put your cheques in the rail sideways, and you're ready to play. Under the rail is a second rail where you place other objects such as drinks or an ashtray. Be careful using this rail underneath with your belongings. People leave their stuff on it, players spill their drinks on it, and I would be afraid of players pickpocketing a purse or anything similar. Just be careful down there.
Proposition Bets on the Craps Table
This whole middle area of the Craps table is reserved for Proposition Bets, most of which are one-roll bets. It serves both sides of the table, so all 16 players can bet on this area simultaneously. And believe me, when they do, all you see is a skyline of cheques covering everything. It gets crazy.
Craps Table Betting Areas
You play the majority of the game in these two areas. The left side can serve up to eight players, and the right side another eight. You are playing the same game at the same time but on opposite ends of the Craps Table. The Betting Area is where you make your Pass Line Bets, Don't Pass Bets, Place Bets, Come Bets.